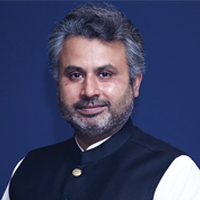 Rafey Zeeshan Altaf
Advocate Supreme Court, Bar at Law (UK), LLM (London)
Rafey Altaf is the Lecturer for Public Law for the LLB Programme of the University of London and for BTT courses at ICLS. He holds an LL.M degree from University College London and is a Barrister of the Honorable Society of Lincoln's Inn. Barrister Altaf also has an undergraduate degree in law (LLB Hons) and a B.A in psychology, English literature and history from GCU Lahore. He was elected as member of the Bar Representation Committee of Lincoln's Inn in 2019 for a term of 4 years.
Barrister Altaf is an Advocate of the Supreme Court of Pakistan with 18 years' experience as a legal practitioner. He has a diverse legal practice and has extensive experience in areas of judicial review, employment and labour laws, banking, civil as well as corporate and white-collar criminal law. He has on occasions been appointed as amicus curie by the Honorable Supreme Court of Pakistan and the Lahore High Court.
Barrister Altaf also has extensive academic experience, having taught constitutional law (2004-2015), international law (2008 – 2018) and international economic law (2006 – 2008) on the University of London programs at different Institutions in Lahore. As part of his professional experience, Barrister Altaf has also worked as consultant in the human rights and development sectors with international donor and charity organizations including, Asian Development Bank, UNICEF and OXFAM as well as the Ministries of Human Rights and Education, Government of Pakistan.