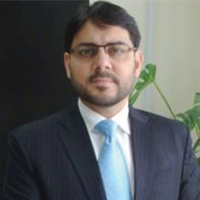 Hussain Tahir Zaidi
Advocate High Court, Bar at Law (UK), LLM (London)
Hussain Tahir Zaidi is the Lecturer for Equity and Trusts for the LLB Programme of the University of London and BTT courses at ICLS. He holds an LLM degree from the University of London and is a Barrister of the Hon'ble Society of Lincoln's Inn.
Barrister Zaidi has also completed his LLB Degree from the University of London. He has more than 20 years experience in the legal profession and has worked in a variety of roles in the legal field. He is Partner at Abdullah & Hussain, with specialization in merger, acquisition, joint venture, commercial & financial restructuring and heads the corporate legal practice of the firm.
Prior to that, he was working as Senior Legal Counsel to Dhabi Holdings which sits on top of the pyramid of all group companies of Dhabi Group. His main area of expertise here was international investment, acquisition, joint ventures and merger deals. He was also the Legal Advisor at Warid Telcom (Pvt) Ltd where apart from commercial matters he also dealt with all regulatory issues faced by Warid Telecom (Private) Limited with respect to Pakistan Telecommunication Authority and other regulatory, governmental and semi governmental bodies.
Barrister Zaidi has also worked in different eminent law firms including at Bhandari Naqvi Riaz as a Senior Associate where he dealt with matters pertaining to Litigation, complex commercial cases, Constitutional cases, registration of trademarks and companies and similar matters. He was also working on matters pertaining to complex international arbitration issues. He also has substantial academic experience having taught EU Law for the LLB University of London Program for more than 11 years.