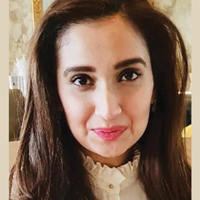 Nida Aftab
Advocate High Court, LLM (UCL)
Nida Aftab is the Lecturer for Islamic Law for the LLB Programme of the University of London at ICLS. Nida Aftab completed her LLB (Honors) from the University of London in 2010. In 2011, she completed her LLM from University College London with distinction (First Class Honors).
She has been the tutor for the course of Commercial Law and lecturer for Introduction to Islamic law. During the entire period of her teaching this course from 2016-2021, a record number of students obtained distinctions and high merits every single year. After returning from London in 2011, she started practice as a legal consultant at the office of the Advocate General, Punjab where she assisted the Additional Advocate General with legal research in various corporate, commercial and civil matters.
Nida joined Ashtar Ali Co. in 2012 as an associate where she delved into a wide range of areas of legal practice. She has considerable experience by appearing and representing clients before the High Courts, Election Tribunal, Banking Court, Civil Court, NAB Court and the SECP. Aside from this, she also provided consultancy services to various clients in matters relating to civil law, commercial law, regulatory law, NAB law, company law amongst other matters.
Nida is currently a partner at Bokhari, Aziz Karim where she provides advisory services to a variety of clients pertaining to civil law, tax law, commercial law, contract law, company law, international law, regulatory law, constitutional law etc. Clients include regulatory authorities, banks, private and public limited companies, listed companies amongst others. She has also worked extensively on drafting and vetting of contracts of a complex nature and has advised clients ranging from start up companies to large telecommunication companies. She also does extensive drafting and corporate advisory work for Clients based in the UK.