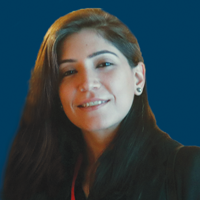 Azmeh Khan
Advocate High Court, LLM (Maastricht)
Azmeh Khan is the Lecturer for Legal System and Method (LSM) and EU Law for the LLB Programme of the University of London at ICLS. She is a legal professional in the field of development, gender and corporate law and holds an LLM Degree in Globalisation and Law: Corporate and Commercial Law from Maastricht University, The Netherlands.
In addition to her years of experience as a Lecturer of laws for the University of London programme, she has formerly served as Legal Counsel for Highnoon Laboratories Limited for a number of years as Head of their Legal Department. She has over 10 years of experience in the development sector; serving as the focal person at Shirkat Gah Law Department and the Women Living Under Muslim Laws, South Asia Region.
She has also worked as a legal researcher/analyst at the Lahore University of Management Sciences (LUMS). She works as a freelance consultant for various think-tanks and independent institutions on gender and law; specifically pertaining to women's property and inheritance.