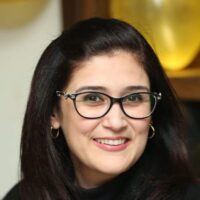 Mariam Saeed
Advocate Mariam Saeed is a University of London Law Graduate and Lawyer, who has over 21 years of experience at teaching and administering University of London LLB (Hons), AS and AL Law. She is one of the founder faculty members at various legal institutes and has pioneered law programmes, Law Moot Sessions and more, at some of the most prestigious Institutions in Lahore.
Mariam Saeed has taught at LGS Defence, KIMS, LGS Phase 5, Learning Alliance, LGS 1A1, LGS Paragon, Beaconhouse Newlands, Lahore Alma and a number of other Schools/Colleges and Universities. She has also been Head of Senior School and A level at Beaconhouse Newlands, Head of International Programmes at TMUC, Vice Principal at Roots Millineum and Principal A Level at ALCG.
She is currently teaching AL Law at ISL and Kaizen High and is also teaching LL.B (Hons) University of London Programme. Mariam Saeed is a Certified College Counselor from College Board USA and is a very effective motivational speaker. Amongst others, she has to her credit compiled the first ever A level Law Past Paper and Suggested Answers which has and still does help facilitate students in preparing for the examination.
A teacher par excellence, she is super proud of her students who have excelled at the subject with World and Regional distinctions as well as a number of A*s in Law. Moreover, most of her students are part of the legal fraternity and are doing exceptionally well. Consistent and passionate to nurture the mind of the youth, her mission is to reach out to maximum students in order to create legal awareness and facilitate them in understanding that Law is more than a subject, it is a lifestyle.
As an Advocate, Mariam Saeed has years of expertise in all areas of Family Law, Civil Law, Dispute Resolution, Human Rights and more. She is an active participant and a key note speaker at various prestigious legal platforms and a member of the Lahore High Court Bar Association and the Punjab Bar Council, along with being a member of a number of Women Lawyers Associations. Hence, continues to contribute to calls for much needed legislative reforms in key areas especially related to protection of women , children, transgenders, quality of legal education etc.
She is a strong voice in raising awareness and facilitating equal representation of women in the legal profession. In a nutshell, Advocate Mariam Saeed, is a Lawyer and Educationist who believes that each day comes with a new challenge that needs to be faced with grace and what better way to contribute to Pakistan than by being a part of the Honourable Legal fraternity and working for causes that need to be voiced.