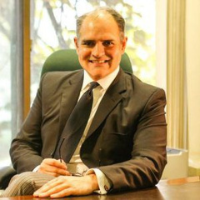 Iftikharudin Riaz
Iftikharuddin Riaz has been ranked individually by Chambers and Partners in Band 1 for Commercial Dispute Resolution in Pakistan from 2014 to 2022 and is one of the few lawyers in Pakistan to have been ranked for both dispute resolution and corporate work.
Chambers and Partners (the Asia Pacific 2017 edition) has quoted clients referring to Iftikharuddin Riaz as "a really impressive advocate with extraordinary pleading and drafting skills who always tries to cover all aspects of the matter at hand" and in the 2018 edition as "a leading disputes specialist advising on large-scale commercial litigation and arbitration. Clients provide warm praise of his abilities, one explaining: 'He has an exceptional quality of head and heart; a thorough gentleman, honest and meticulous in his work. He contributes immaculate legal research and language.'" The 2020 edition quotes a client as saying "He is marvellous, he's wonderful at handling people and is so smart".
He has acted in investor-state treaty disputes and was appointed to the high-level committee set up to negotiate Bilateral Investment Treaties on behalf of Pakistan and advised the Government on related issues. He has represented Pakistan and the Pakistan Business Council in meetings of Working Group II of the UN Commission on International Trade Law (UNCITRAL).