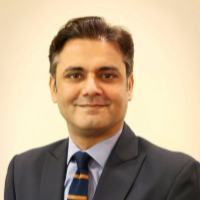 Mansoor Usman Awan
Mr. Awan holds a Master of Laws (LLM) degree from Harvard Law School, USA and Bachelor of Laws (LLB) degree from University of the Punjab where he stood first in the Punjab University Law College and was awarded Justice M. Jan Memorial gold medal for obtaining 1st position in Jurisprudence and Charles Earl Bevan Petman Law Prize for 1st position in Criminal Law.
Mr. Awan is a recipient of the Harvard Law School Dean's Award for Leadership (2005). At Harvard Law, he was elected as the LLM Representative to Harvard Law School Council and he also served as the Vice President of Harvard Graduate Council.
Mr. Awan has the distinction of practicing law in four (4) jurisdictions i.e. USA, the UK, the UAE and Pakistan. He has worked with Shearman & Sterling LLP and Fried, Frank, Harris, Shriver & Jacobson LLP in their capital markets, corporate finance, structured finance, projects & infrastructure finance as well as M&A and Private Equity groups. He has worked on multi-billion dollar transactions while representing the sponsors, lead arrangers, lead book-running managers and underwriters. Apart from his transactional experience, he has represented large multinational companies in both contentious matters before the courts in Pakistan. Mr. Awan has represented clients such as, Goldman Sachs, Merrill Lynch, Bank of America, Citibank N.A, Lehman Brothers, Kuwait Investment Authority, Abu Dhabi Investment Council and Virgin Group of Companies in their various financing, private equity and capital markets transactions.
Currently, Mr. Awan regularly advises and represents clients on taxation, regulatory, commercial and constitutional matters in High Courts and the Supreme Court of Pakistan.
He is admitted to the bar in the State of New York and is also an Advocate of the Supreme Court of Pakistan. Mr. Awan splits his time between Lahore and Islamabad Offices.