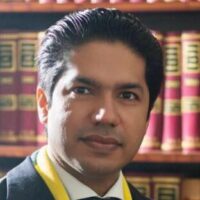 Muhammad Ahmed Pansota
Barrister Muhammad Ahmed Pansota, after studying from Aitchison College, Lahore, did his LLB(Hons) from University College Lahore, (External Program). He did his Bar-at-Law from Inns of Court School Law, London and was called to the bar at Lincolns Inn, London, in the year 2005.
He started his career with Cornelius, Lane & Mufti and became the founding partner of Ahmed & Pansota (Advocates & Legal Consultants) in the year 2007.
He specializes in the field of litigation and is practicing in the areas of Public Interest, Constitutional, Banking, Criminal, Civil, Revenue, Corporate, Employment, Labour, Regulatory, Harassment, Intellectual Property and Service law. He regularly appears before the higher and sub-ordinate court of the country.
He appears regularly on the national TV channels of the country as a legal expert. He writes for various newspapers on current legal issues.
Barrister Pansota is an elected member of the Bar Representation Committee of the Honourable Society of Lincoln's Inn and is also the Chairperson of Council of Complaints, PEMRA, Lahore, a body created under Section 26 of PEMRA Ordinance, 2002, to facilitate public complaints against any aspect of broadcast of media or cable TV operators.
Barrister Pansota also teaches at various institutes in Lahore.